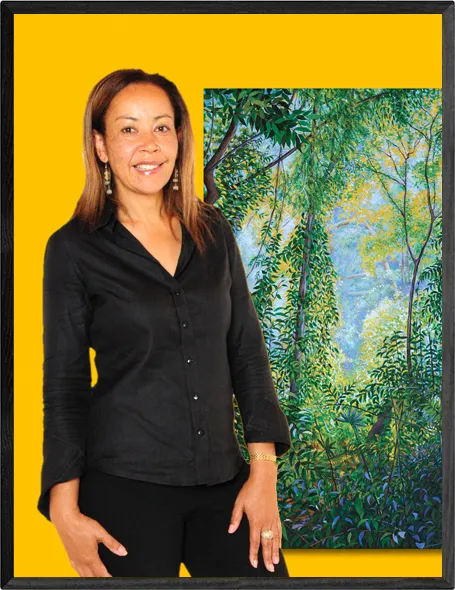 Camille grew up on a farm surrounded by fertile countryside near the slopes of Mt Elgon in rural Western Kenya. Camping trips and visiting nature reserves and parks was a regular part of her childhood. Her family moved to the capital city Nairobi where she majored in English, French and Art at Hillcrest Secondary School.
Camille's University education in Florence Italy focused on ancient Renaissance art techniques: tempera on panel, fresco, gilding & oil as well as studying the History of Art (15th- 19th century), the History of African Art, Restoration and Museology. Her focus on design and the study of different medium learnt in Milan and Rome led her to spend several years painting murals on commission for private clients in Kenya and Europe including a 6 room art collection commission project for art collectors Jocelyn and (the late) Alec Wildenstein.
Her more recent participation in several group and solo exhibitions in Kenya and the UK have allowed Camille to hone her painting skills.
She records iconic and unrecorded African landscapes on canvas and panel after noticing a lack of visual painted documentation of the many inspiring places on the African continent. This was in contrast to her European art education which saw traditional landscape painting as an extremely important part of a nation's documentation and history of a place and time.
Her move to paint with water based tempera paint in 2016 was inspired by her interest in Chinese landscape painting and the spiritual mood and atmosphere created in their work through their limited color palette, respect for nature and different approach to painting scenes. This was in direct contrast to painting in situ – (plein air) of the Western tradition that Camille was familiar with. Chinese landscapes were done after prolonged periods of contemplation in nature followed by a retreat from the scene to a quiet room or place to produce the work from memory and imagination. Camille's current practice now focuses closely on the experience and feeling of a landscape that she wants to create for the viewer by exploring technique in a more modern contemporary style but still referring to and combining both the great Western and Chinese painting traditions.
Camille's current project involves painting eight immersive landscape murals. The murals allow the viewer to physically step inside the circular room (the circular shape being the 'hut' or home for Africans all over the continent).
Ten separate works for sale on panel and canvas (with the same theme of each individual mural) will go on sale internationally from late 2023.
CURRENT PROJECT – 8 IMMERSIVE MURALS & 80 WORKS IN TEMPERA AND OIL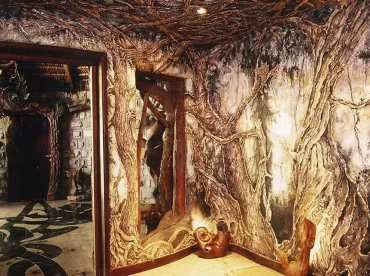 Aberdares forest mural 1 Kenya
first of a series of 8 murals – current project First of eight circular immersive murals depicting ancient cedar and bamboo forests, the endangered bongo antelope and the elusive black leopard. The mural is highly decorative, bringing in elements to create a 3D effect including a flyfishing chandelier and incorporating cultural Kenyan myths and legends of this unique forest. 10 works on panel and canvas will be exhibited for sale internationally late 2023
Other murals which will become part of the art collection will be of iconic and world heritage African landscapes: Masai Mara, Turkana in Northern Kenya (Cradle of Mankind), Mt Kenya, The Great Rift Valley, Samburu National Park, Tsavo National Park, Mijikenda Sacred Forests of the Coast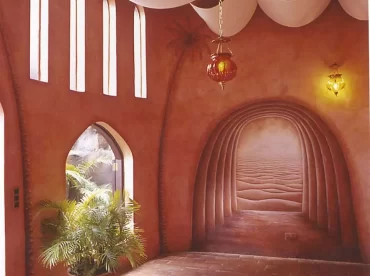 Murals – Kenya, Europe, Sri Lanka
Private Art Collections 2002-2011
Several commission based murals for private clients using mixed media, gold leaf, 3D plaster and stone work. Commissions include dining rooms, conservatories, bedrooms, lobbies, sitting rooms, massage rooms, verandahs, board rooms, corridors and bars These works were done on a commission basis only working directly on site after detailed colored sketchwork drawn to scale and approved by the client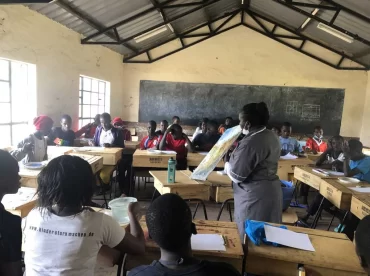 Lewa Wildlife Conservancy
Waiting bay area mural, Health center 2012
This health centre at Lewa Conservancy in Kenya, world renowned for its community approach to conservation, benefits the surrounding community who previously had no access to basic health care. Some local people were walking up to 30km to access a facility. The centre has been replicated by Government agencies as a model in different parts of Kenya
Conservation Education Centre mural, Laikipia, Kenya 2013 This centre was a first of its kind in Kenya and visited by thousands of school children annually from the surrounding communites in Laikipia who learn about art, conservation, recycling, rainfall, reforestation from an early age and how they can actively get involved in environmental issues by using creative methods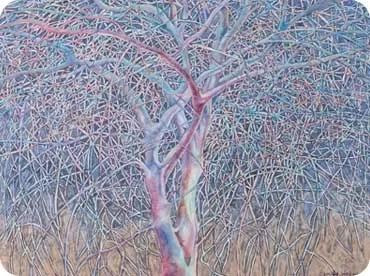 The Coca Cola Africa Art Collection
Mural Boardroom and Headquarters Coca Cola Africa, Windsor, UK, 2005
Boardroom mural painting depicting North Africa's great deserts
Consultant and Advisor to Coca Cola Africa art collection of 183 artworks that were bought in Africa featuring artists and artefacts from North, East, South and West Africa. The four storey building in Windsor UK housed the entire art collection as part of the interior design of the offices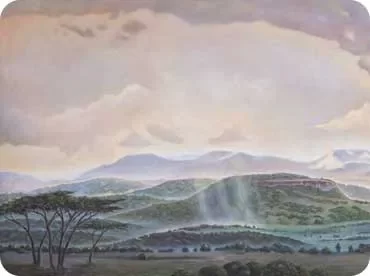 Alec & Jocelyn Wildenstein
Ol Jogi Ranch, Kenya, 1996-2001
6 entire painted rooms for their private art collection using mixed media,decorative patternwork, mosaic and relief work. Rooms included two lobby areas, a Morrocan hammam, massage room, bedroom and aerobics gym area.
Creative Director working closely with Mrs Jocelyn Wildenstein to create and design cards, menus, stage sets, gift items for their private guests
Art Exhibitions, Murals showcasing African landscapes, forests and wildlife 2004 – 2020 KENYA, UNITED KINGDOM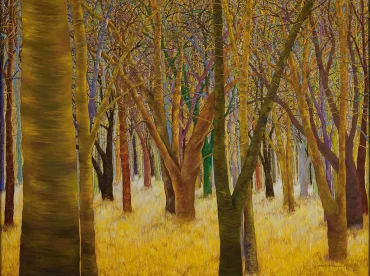 August 2020 Red Hill Art Gallery, Nairobi
a small overview of traditional oil paintings and more recent work of tempera paint on panel. The exhibition is a celebration of trees and landscapes from around Kenya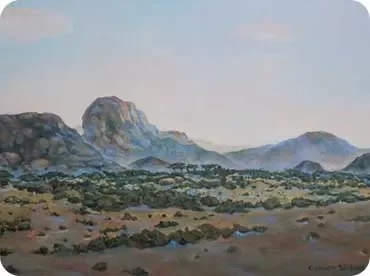 exhibition June 2018, Framers Gallery, London UK
paintings of the commiphora tree, Tsavo National Park and Lake Turkana, Sibiloi National Park and Koobi Fora in Northern Kenya, a world heritage site and cradle of mankind, renowned for its fossil collections, ancient petrified forest and world renowned archaeological sites. Catalogue forward by Mrs Alice MaCaire, the first Chair and now Patron of Karura Forest in Nairobi and the wife of the ex British High Commissioner to India, Kenya and Iran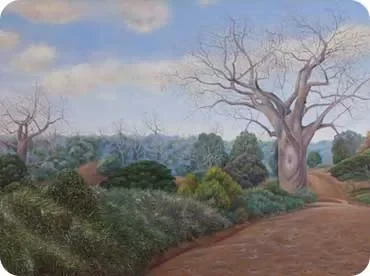 Skies, Plains & Mountains
Exhibition, June 2016, Red Hill Art Gallery, Nairobi
oil paintings of two world heritage sites, Masai Mara and Mt Kenya including views from Lenana peak after a 3 day climb to the summit. Exhibition opened by the international environmentalist and writer Mrs Kuki Gallmann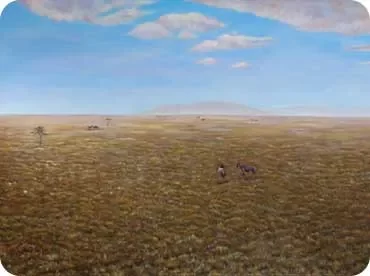 Exhibition Nairobi National Museum, 2013
exhibition Nairobi National Museum, 2013, Nairobi Kenya, with 5 of Kenya's top artists. Six panel mural of acacia trees. Exhibition was in celebration of Kenya's 50 years of Independence and opened by the British Ambassador to Kenya Dr Chris Turner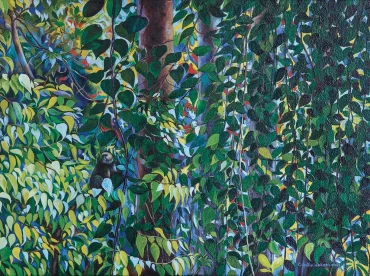 joint exhibition 2012 with Ancent Soi at Deborah Gage Works of Art, London, UK: oil paintings from Kakamega Forest, remnant of the Guineo-Congo rainforest. Catalogue forward by Dr Noah Wekesa, Minister for Forestry & Wildlife, Kenya
Group exhibition African Portraits, March 2012 at Standard Chartered Bank @ Chiromo, Nairobi, Kenya in support of the Ngecha Arts Centre in Mukuru slum opened by the Ambassador of Russia to Kenya, Mr Alexander Makarenko and hosted by the CEO of Standard Chartered Bank Mr Richard Etemesi
Group exhibition Tree Life July 2011, at the Nairobi National Museum, Kenya to raise funds for Karura Forest www.friendsofkarura.org in conjunction with the 'The International year of Forests' opened by Mrs Heli Sirve Ambassador of Finland to Kenya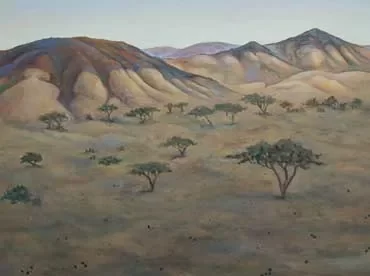 2010 painted fibreglass lions in conjunction with KWS (The Kenya Wildlife Service) & Born Free Foundation to raise awareness of Kenya's vanishing lion population
Solo oil painting exhibition of Samburu and Shaba national game reserves and Mt Elgon at Ramoma Gallery, Nairobi, Kenya 2009
Kenyan Group exhibition 2005 Off the Wall Art Fair London, UK
Kenyan group exhibition Contemporary Kenya 2004 Ensign Gallery, London UK participating with 4 oil paintings of the black leopard of the Aberdares forest
Istituto Europeo di Design, Rome - Milan, Italy 1989 - 1993
Life drawing and painting techniques including oil, acrylic, watercolour, charcoal, stucco and wood by Italy's top professors Basic courses in still life, figure drawing, design and perspective
L'Universita' Internazionale dell'Arte, Florence, Italy 1987-1989
(15th – 19th Century)
The History and Criticism of Western art Art by the world renowned Ezio Bassani Museology – Museum Architecture, Collections, Legislation of Cultural Works, Museum visual and expressive communication, Lighting
Theory and practical lessons on ancient methods of Conservation and Restoration of paintings with visits to The Uffizi gallery and Italy's great monuments, museums and churches
Camille's involvement and love of conservation of the environment grew whilst painting, recording and documenting diverse habitats around Kenya which then became a natural extension of her own work. She now works closely with the communities who reside alongside these remote and stunning places seeing them as an integral part of the restoration and preservation of these unique habitats. Being involved in childrens art education is now part of integrating a love of the environment and nature through creativity and art for the next generation
Chair - OPP Ontulili Primates Protection Nanyuki Kenya
Co Founder and Chair of this community based organization supported by Laikipia Wildlife Forum LWF and Mt Kenya Trust MKT and USA based donors OverandAbove Africa to assist in the protection of primates and wildlife along the Ontulili river in Nanyuki. The project consists of a local tree nursery, a six primate guardian women's team who monitor the primates and wildlife on a bi monthly basis feeding the data information back to IPR (Institute of Primates Research) in Nairobi Kenya
Community art education classes for children (ages 8-18) are run on weekends with the assistance of Kenya's top professional artists with the emphasis of drawing and recording the environment and nature. OPP is supported by Government agencies KWS (Kenya Wildlife Service), KFS (Kenya Forest Service), NEMA (National Environmental Management Authority) Mt Kenya Trust MKT, IPR International Primates Research Insitute in Nairobi and many others
MCC Arts Advisory working group
This 7 member committee was set up to improve the art collection owned by Muthaiga Country Club in Nairobi by expanding, updating and more importantly reflecting the changing membership at this private club by building on the already existing collection of paintings, photos and prints by refering to the Club's rich history and looking to the future to add more contemporary work including sculpture and other medium. A written collection policy was drawn up that will include keeping visual and written records, raising funds to purchase new artwork, providing correct storage as well as a policy on dealing with damaged works and how to accession and de-accession artworks in the collection
Secretary - Mount Kenya Community Project MKCP
Secretary of the security group run by local farms, individual stakeholders and the community in conjunction with the Kenyan Police in Nanyuki.
The outreach program assists local motorbike rider taxis to help them purchase appropriate clothing and helmets, educate them about carrying licenses, following traffic rules and assisting in the security and good neighborliness in the surrounding community
Founder and Director – set up to promote and establish art education through a permanent collection of contemporary Kenyan and African art with the focus on nature, wildlife, and the environment, working closely with Africa's top artists.
The program has recently set up a donor sponsored professional artist in residence program to grow the collection and run local community art workshops to pass on skills to the younger generation (Instagram #orkediart)
CSR: Lewa Art Education program 2016 – 2021
Co-ordination and documentation of a weekend art education program for Lewa Conservancy bringing Kenya's leading artists to run workshops in some of their schools sponsored by The Matisse Foundation and private donors
Panocal International Limited
Director and Board member of one of the largest flower farms in Western Kenya, a major producer and exporter of roses to the international market including Europe, Japan, Dubai, Russia, Australia; producers of maize, sugar cane, honey, timber products and a more recent project into the growth and export of avocados to Europe and China
The Great Rift Valley Trust
member of the advisory board in Laikipia since 2010 in support of bringing creativity and art to local communities and teaching them about conservation through the use of art
Secretary of Karura Forest 2010-2015
Helped establish the most successful community forest association (CFA) in Kenya in conjunction with KFS The Kenya Forest Service and The Friends of Karura (the members) and now attracting over 60,000 paying visitors monthly.
Karura is dedicated to the preservation of the largest green area in Nairobi in support of the late Kenyan Nobel Peace prize winner Professor Wangari Maathai and her efforts to have all Kenyans enjoy this unique forest in a city that spans over 2000 acres of forest land